In this world where freedom of expression is expected to be upheld, we would expect that an American-based social media network like LinkedIn would appreciate "freedom," and yes, they say they do—but do their actions conform to their words?
When it comes to big business opportunities in China … no.
In February 2014, professional social networking website LinkedIn Corp hit the headlines when the company launched a Chinese language version of its website in an effort to reach out to a larger group of professionals in China.
To gain entry into a country means one has to comply with the laws of that country, something that the company acknowledged upon announcement of their expansion.
Jeff Weiner, LinkedIn's CEO, wrote in a blog post that the Chinese regime had required LinkedIn to follow censorship requirements, but the company will implement censorship "only when and to the extent required" … because "LinkedIn strongly supports freedom of expression and fundamentally disagrees with government censorship."
In addition, the company "will be transparent about how it conducts business in China and will use multiple avenues to notify members about our practices."
However, a few months later, LinkedIn's censorship became an issue when some of its members were shocked to learn that their posts, which contained sensitive information on the Chinese regime, would not be seen by other LinkedIn members.
A China-based correspondent of The Australian was informed by LinkedIn that his story of an Australian artist, Guo Jian, who was arrested for commemorating the 1989 Tiananmen Square Massacre through an art piece, will be censored and not be available to other LinkedIn members.
The censorship is not limited to just those living in China.
Patrick Poon, a law student at the Chinese University of Hong Kong, told the Wall Street Journal that he was "really shocked" when LinkedIn notified him that a video that expresses support for those killed in the Tiananmen Square Massacre will not be available in China.
"We want to clarify that your activity is and has been visible globally, with the exception of the People's Republic of China. This is due to specific requirements within China to block certain content so that it does not appear on our network in the country," read the message from LinkedIn.
The Chinese Communist Party has been desperately trying to hide from the Chinese population the fact that they mass-murdered more than 10,000 unarmed students and teachers that day. And LinkedIn only wants to help them hide the truth from China's 1.3 billion people, because after all, LinkedIn "fundamentally disagrees with government censorship," right?
The Tiananmen Square Massacre is not the only "sensitive" phrase on LinkedIn
A month after reports of LinkedIn's censorship surfaced, Suman Srinivasan, who previously worked as a web developer for The Epoch Times, told the newspaper that LinkedIn had sent him an email informing him that users in China would no longer be able to view his profile, though other users worldwide were still able to.
The reason was because Srinivasan, now a senior software engineer with Microsoft, had mentioned the persecution of Falun Gong in his profile.
Falun Gong, also known as Falun Dafa, is an ancient Chinese cultivation discipline in the Buddha-school tradition that consists of five gentle exercises, and is based on the tenets of Truthfulness, Compassion, and Tolerance.
When the number of people practicing Falun Dafa skyrocketed within five years after it was introduced to the public in 1992, the Chinese regime, fearing its popularity, began a persecution of the practice in 1999. As a result, a countless amount of Falun Dafa practitioners in China have been, and still are, arrested, detained, and subjected to brutal torture. The Chinese regime is even forcibly harvesting their organs.
"The persecution in China is horrendous," said Srinivasan, who is also a practitioner. "I feel I have to do whatever I can to try to stop it."
However, this soon became the reason that his profile was blocked from being viewed by those in China, two company representatives told Srinivasan in a phone call.
The company, however, gave Srinivasan an option.
"They told me if I removed language that is critical of the Chinese regime, they would unblock my profile," Srinivasan said.
Though four years have since passed, LinkedIn continues to censor its users' profiles to appease Communist Party officials.
In December 2018, Peter Humphrey, a corporate fraud investigator who now lives in the United Kingdom, had his LinkedIn profile made unavailable in China due to "presence of specific content," BuzzFeed News reported.
Humphrey and his wife were once imprisoned in China for "illegally obtaining private information about Chinese citizens."
"It made me feel sick in my stomach," he said. "This is supposed to be a company operating in the environment of free flow of information. An American company where you have a constitutional amendment that makes freedom of expression sacred."
His profile was later restored and Nicole Lverich, the company's spokesperson, said his profile was "blocked in error."
"Our Trust and Safety team is updating our internal processes to help prevent an error like this from happening again," she said.
However, a similar incident happened again in early January 2019 to Zhou Fengsuo, a former student leader of the Tiananmen Democratic Movement in 1989, who is now based in New York.
Zhou was told by LinkedIn that users in China would not be able to view his profile.
According to a screenshot of the email that Zhou posted to his Twitter account, LinkedIn wrote, "due to the presence of specific content" on his profile, it will not be available in China.
LinkedIn later restored Zhou's profile and apologized that his profile was "blocked in error." Sounding familiar?
My LinkedIn account was blocked by LinkedIn in China, a day after my other social account was blocked in China.This is how censorship spread from Communist China to Silicon Valley in the age of globalization and digitalization.
How does LinkedIn get the order from Beijing? pic.twitter.com/CMC8K0aIpo

— 周锋锁 Fengsuo Zhou (@ZhouFengSuo) January 3, 2019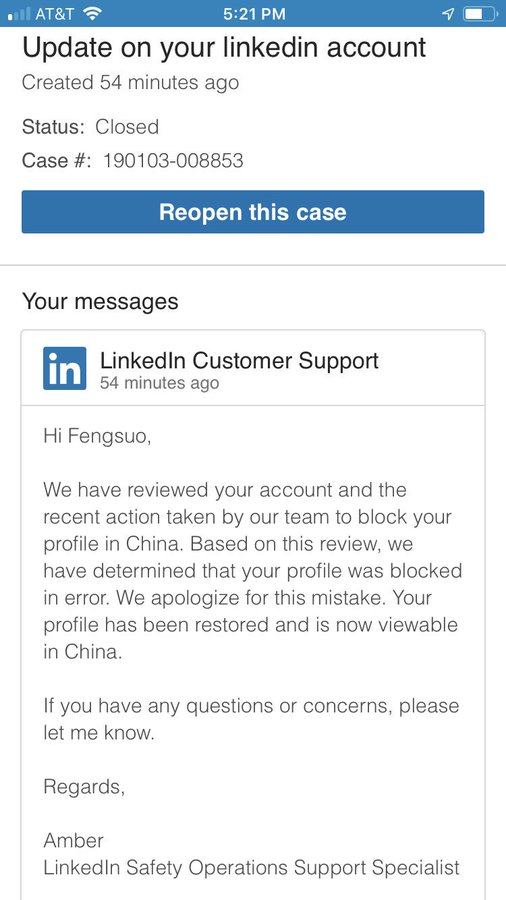 Update, @LinkedIn just apologized and reversed the decision which was deemed an error.
I applaud the prompt and correct response by LinkedIn.
I hope other companies would do the right job and avoid such error in the future.
Thanks to @owenschurchill for the quick follow up pic.twitter.com/Fx7hKg1Znu

— 周锋锁 Fengsuo Zhou (@ZhouFengSuo) January 3, 2019
While it is "lovely" that LinkedIn has made sure to state in their message to Zhou that, "while we strongly support freedom of expression…" the fact of the matter is that kowtowing to a communist regime, one that is notorious for murdering more of its own citizens (who are not criminals) than the whole world combined, does not send the right kind of signal that this social media platform strongly supports freedom of expression.
Oh and don't forget, China has for many years running been one of the world's worst jailers of journalists  … yeah, freedom of expression isn't a communist nation's strong point, and neither is any company or social media platform who wants to "link up" with such a human rights violator for monetary benefits.
By Jocelyn Neo
From The Epoch Times